How to Choose Multi-Purpose Binding Supplies
How to Choose Multi-Purpose Binding Supplies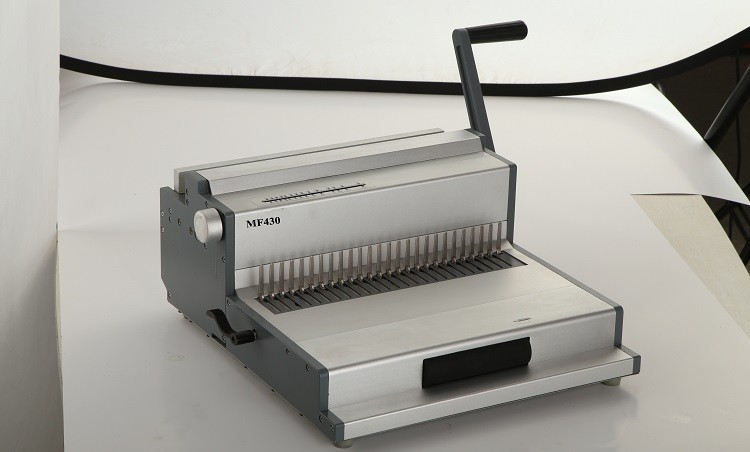 Binding documents together makes them more portable and easier to read. Binding looks more attractive and professional, confirming the document's importance to the reader. Large office buildings may have binding machines that allow personnel to create crisp, attractive documents such as reports, proposals, and manuals. Within a corporate environment or a small business, the type of binding that is needed may vary from project to project. Manuals and instruction books may need spiral binding so that they can be easily manipulated during a work process. Annual reports may need thermal binding for a more book-like appearance. Project proposals or customer presentations could be bound with a plastic comb.
Because of the variety of bindings that their office or business uses, many owners opt for a multi-purpose binding machine and multi-purpose binding supplies like coils, combs, spiral wire, pre-glued spines, and other items. Whether these supplies are purchased in local stores or online via websites like eBay, buyers need to know what features they should look for to get the most viable products for their needs.
Selecting Multipurpose Binding Equipment
If users plan to do more than one kind of binding, they may be able to obtain a machine that includes several different functions. Purchasing a single multi-purpose binding machine is usually less expensive than purchasing separate machines for each binding function is. A multipurpose machine may be capable of doing both spiral and plastic comb binding, or thermal binding plus spiral binding.
Options
Many multipurpose binding machines allow users to select from different options, depending on the size of their project. Users can choose the number of holes that they want and how large the holes should be. They can also set the machine to use different binding supplies, such as different kinds of paper or paperboard and a variety of spirals and combs. They should be able to enter the dimensions of their document into the machine so that the binding job is optimized for that size.
Specifications
As buyers shop for their binding equipment, they should look for a multipurpose machine that is versatile and includes multiple settings for different projects. Buyers may want to first examine some machines that specialize in a particular type of binding. They should become familiar with the specifications of a good spiral binding machine, for example. Then, when they look at multi-purpose machines, they can look at the specifications and know whether the multi-purpose machine includes sufficient options for the task.
Workload
Buyers also need to think about the volume of material that they plan to bind on a daily basis. For a small workplace with a lighter workload and fewer clients, the machine may not be needed every day. However, a larger business with many employees or a small business that is constantly churning out customer presentations may need to bind multiple documents per hour. Such a business would need a heavy-duty machine that is capable of handling the constant workload.
Choosing Cover Material
Bound documents often include a cover that is sometimes made from the same material as the pages and is sometimes made from a different, sturdier material. If buyers plan to use a cover for their documents, they should purchase material or paper that is appropriate for the creation of a simple cover. This material needs to be stiffer and more durable than the interior pages of the document are, since part of its job is to protect the pages beneath it from stains, marks, and other damage. Before buying a large amount of any cover material, buyers should be sure that their multi-purpose binding machine can handle the weight and the thickness of the substance.
Stocking Up on Plastic Combs
Plastic combs are a commonly used binding material, particularly in small businesses and in schools. In plastic comb binding, holes are punched at even intervals along the left outer edge of the document. The binding machine's user puts a new, unused binding comb on the designated area of the machine. The machine inserts the comb through the freshly punched holes and clamps it tight.
For plastic combs, a series of 19 holes is typical. Plastic comb binding is used for projects that are between 3/16 of an inch to a couple of inches thick. There is a correlation between the thickness of the document in inches and the number of sheets of standard printing paper (20 lb.). For instance, document with a thickness of 3/16 inch probably contains 12 sheets of paper. A document that is two inches thick likely holds around 425 pages. Beyond two inches, the plastic comb cannot handle the weight or the thickness of the document and must be replaced with another form of binding.
Buyers should stock up on a number of plastic combs. They should also save the plastic combs from any documents that are no longer needed, since plastic combs can be reused for other documents.
Purchasing Spiral Wire
Spiral binding is another common form of binding, possibly even more familiar to users than plastic comb binding is. The machine punches evenly-spaced holes along the left edge of the document and then rapidly threads the spiral wire through those holes. Spiral wire binding does not come apart easily. It is tough, durable binding, but it is also versatile, allowing users to easily flip through the document and even fold the pages around for easier handling.
Spiral wire binding falls into three main categories, as outlined in the chart below.
| Type of Spiral Wire Binding | Holes per Inch | Total Number of Holes | Range of Document Thickness |
| --- | --- | --- | --- |
| 3:1 Pitch | 3 holes per inch | 32 holes | 3/16 inch to 9/16 inch, or 10 to 120 pages |
| 2:1 Pitch | 2 holes per inch | 21 holes | 1/4 inch to 1 1/4 inch, or 20 to 230 pages |
| Spiral-O | About 1.7 holes per inch | 19 holes | 1/4 inch to 1 inch, or 20 to 200 pages |
Machines that are designed to bind 3:1 pitch are only able to use 3:1 wire. However, some multipurpose binding machines may be able to use more than one kind of wire or comb for multiple kinds of binding. The Ibimaster 400-E, for example, can bind both plastic comb and Spiral-O wire. Buyers need to decide what type of spiral binding is most appropriate for the kind of documents they plan to bind. Then they can purchase that type of spiral wire and store it somewhere near their multi-purpose binding machine.
Selecting Coil Binding
Coil binding is very similar to spiral wire binding. Instead of wire, however, this type of binding uses a coiled PVC filament. The filament resembles a tight spring wound through the holes in the left edge of the book or document. Machines such as the Rubicoil may require manual insertion of the coil into the holes. However, buyers who anticipate a heavy workload can buy a coil binding machine with a motorized coil inserter. These machines run the coil through the holes automatically without manual assistance from the user.
Coil binding is often used for elementary school and high school workbooks or notebooks. When a coil-bound book or document is opened and laid on a smooth surface such as a table, the pages rest flat against the surface. Coil-bound pages are easy for users to turn. Both coil binding and spiral binding can come in multiple colors, offering users some versatility in the appearance of their document.
Coil binding comes in two types: 4:1 pitch (4 holes per inch) and 5:1 pitch (5 holes per inch). 4:1 pitch coil binding can hold up to 230 pages, while 5:1 pitch can hold up to 152 pages.
Buying Pre-Glued Spines for Thermal Binding
Thermal binding results in an attractive book format. In thermal binding, the machine presses the stack of pages into a pre-glued spine. Then, the book is laid in a heated tray where the glue is warmed. The warm glue adheres to the pages, creating a bond. When the book cools off, it is securely bound. Pre-glued spines are more expensive than spiral wire and other binding methods are. However, the end result more closely resembles a professionally bound, published document.
Just tell me what you want, a customized product is welcome!