Which Binding Machine Is Best For You And Why
Which Binding Machine Is Best For You And Why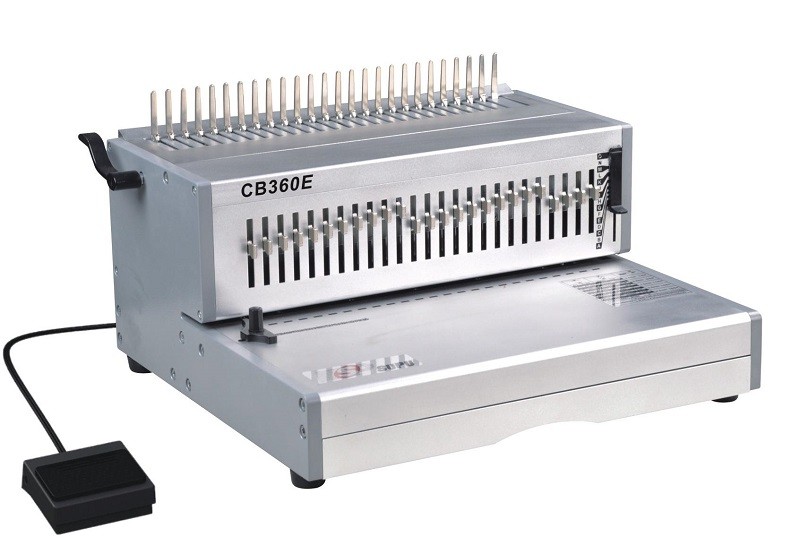 Do you regularly produce printed documents and sales materials for your business that need an extra touch to make them look totally professional? Would you like to handle more of your company's printing in-house instead of paying to outsource the work to another company? Investing in a binding machine will turn the printed products you produce for your clients and customers into professional-looking material that will give your business the edge.
So, how can a binding machine prove useful to you in your particular line of business? It can be used to professionally bind a range of documents that include policy documents, brochures, contracts, training manuals and quotations of work for clients. Binding a large document makes it easier to use and consult regularly, as well as keeping all the pages together and in the order intended.
There are many different types of binding machines and the best one for you will be dependent on your particular office and business needs. Do you require a binding machine that can bind mass copies of documents for employees, or a machine that will create a high-end look for your sales materials? Furthermore, some documents need to be bound to travel well by post, while others may comprise part of a formal presentation that you would like to look good on a shelf in your office.
Other points to consider when researching your binding machine purchase include whether or not you will need to bind documents with a few or several pages and whether you will need to use your binding machine frequently during each working day, or if it is going to a be a purchase intended for occasional and light use. It can be a poor investment to buy a lower capacity and strength binder that doesn't meet your business needs and will soon to be replaced. Equally, you do not want to spend money on a binder with specifications that far exceed your requirements and will, in fact, be used infrequently.
Documents are bound for a number of reasons and taking some time to consider what your particular needs are in terms of binding will also help you when you come to evaluate which is the best type of binding machine for your needs. If you are looking to bind documents to keep them safely stored together, the quality of the presentation of your bound document is less of a factor than if you are creating sales brochures and other all-important documents to market and document your business to clients.
The variety of ways to bind a document are several, with comb-binding being the most widespread and well-known binding format. Comb binders are quick and easy to use and are very popular in schools, colleges and small businesses. Comb binders also have the added attraction of being hard-wearing and reusable and comb binding machines are available in both manual and electric options, with the type of comb binder you choose being dependent on the volume of documents you will need to bind.
Standard comb binding machines work by punching a row of 19 holes down the longer side of your A4 document. You then use the machine to open the plastic comb, after which you insert the plastic comb into the pre-punched holes – the document is secure once you have closed the comb. An electric comb binding machine will take the manual element out of this process. A comb binding machine can generally handle a document with a paper stack of up to two inches and comb binding machines remain a highly popular choice.
As it is the most popular form of binding, there is a vast array of comb binders available on the market and prices range from well below £100 to upwards of £1000 – although, at any price, a comb binder is a sound investment. Manufacturers include Acco Rexel, GBC, Fellowes and ibico. A reputable supplier will be able to guide you through the buying process and offer you a strong selection of different comb binders to help you choose the right binder for your office or business requirements.
Coil binding machines produce bound documents that are easily recognisable as bound and coil binding machines are very popular – particularly in educational and community establishments – and easy to use. Coil binders are available as manually or electrically-operated, with electrical models being more suitable for machines that will have a high volume of usage. As coils come in a variety of colours, they are useful for creating cheerful and fun bound documents. The advantages of coil bound documents include that they can be opened 360º, that they are very durable and that your coil bound document can lie flat or stay open when propped up.
Wire binding is another easily recognisable binding format and wire-bound documents have an elegant and streamlined look to them. Wire-bound documents are easy to read and manipulate and very durable. There are three different types of wire binding, with each type punching holes in the document at different rates. The Spiral-O type of wire binder is very similar to a comb binder – in that it punches the same number of holes in an A4 document as a comb binder does. Some dual-purpose binding machines are available on the market – offering both comb binding and Spiral-O wire binding capabilities in one machine for added flexibility and choice.
Thermal binding is a good, high-volume binding option for when time is limited. Thermal-bound documents are bound permanently inside a thermal cover and create a finished look without holes being punched in the document. Thermal binding is useful for creating a quality look to your documents and presentations and thermal binding machines are very easy to use.
Thermal binding uses pre-glued spines, which are custom-made for your thermal binding machine. The document is inserted into the machine, so that it lies within the pre-glued spine, and the machine that heats the glue up rapidly to a high temperature. Once the glue has cooled down, your document is bound, without holes, to give a streamlined look.
Perfect binding is another glue-based binding solution and perfect binding machines are particularly suited to low volume use, as are thermal binding machines. The document you wish to bind is placed into the machine and then sealed with quality glue at a high temperature, before the machine cools the glue down again to prepare the bound document for use. Perfect binders work quickly and are a suitable option for users who would like to bind their documents without any binding accessories to create a sleek look.
Just tell me what you want, a customized product is welcome!