Plastic Comb Binding Machines: Economical and Adaptable
Plastic Comb Binding Machines: Economical and Adaptable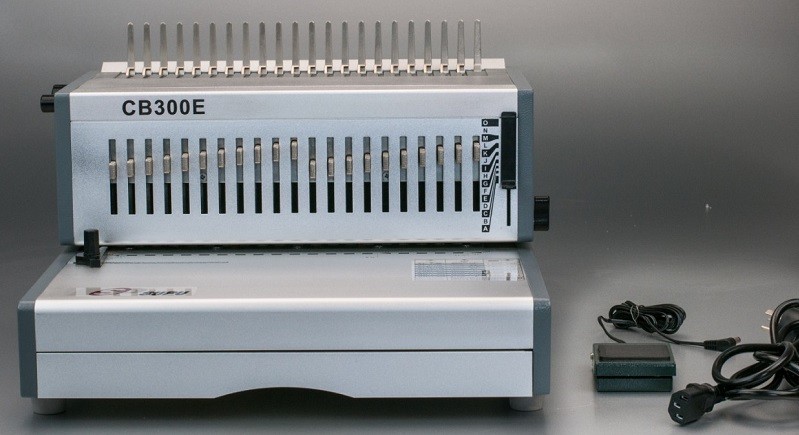 Noticeable Cost Savings With Plastic Comb Binding Machines and Supplies
The cost of binding documents with comb elements on a plastic comb binding machine can cost less than coil, wire or thermal binding techniques.
This cost savings comes from the re-usability of the plastic comb. Of all the binding materials, it's the easiest to re-use after making changes to your documents. However, if you do need to buy new comb binding elements, they cost only pennies apiece.
Plastic comb binding machines themselves are also very affordable, making them a good choice for those just starting out with on-site binding.
Versatility Before And After Binding
You can bind just about anything with comb binding and a plastic comb binding machine. It can handle documents as small as 3/16 of an inch to as large as two inches thick, and many different styles of comb binding can be handled by the same machines so there's no need to buy additional equipment.
Yet the versatility doesn't stop once the document is bound. Plastic comb can be opened and closed many times to allow you to easily add or remove sheets from your document, change covers, or make any other updates.
For example, on a manual comb opener, you simply slide the book down on the rake element to align the spine, pull the machine's handle to open the fingers of the comb and then add or remove sheets as needed. Close the comb with the lever and you're done. No cutting or crimping is required.
Finally, the bound documents open flat so you can easily copy any page and also lie flat when closed for easy mailing.
Variety And Availability
Unlike some other binding elements, plastic combs come in many different colors including clear, white, and black as well as several shades of green, blue, red and yellow so that you can create a unique look for all your bound documents.
Comb spines come in several different lengths and can be manufactured in custom sizes up to four feet long. So whether you're creating a sample book with just a few loops or a large document with maps or design plans requiring 80 loops, you'll get the document you want without paying more for specialty bindings.
You can also put custom printing on the outside of the comb binding to give your documents even more variety and pizazz.
Because comb binding has been in use longer than other of the other methods, you can find a comb binding machine and some of the basic related supplies in just about any office supply store. They may be a bit more expensive in a smaller store, but sometimes the convenience is worth it. Comb binding is the only binding system these stores carry, so if you're using a different binding system you probably can't get emergency supplies in a pinch.
Finally, there are electric comb openers on the market that can unbind a book quickly and with no damage, but there are no automatic comb opening machines so it's a one-by-one process for each document.
For a binding system that can do it all for not a lot of money, go with a plastic comb binding machine.
Just tell me what you want, a customized product is welcome!