How Do I Edit a Book Bound with the supu OfficeComb Comb Binding Machine?
How Do I Edit a Book Bound with the supu OfficeComb Comb Binding Machine?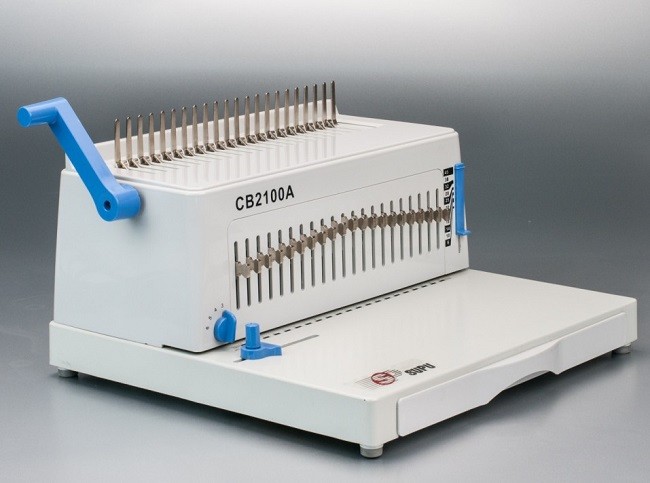 The supu OfficeComb comb binding machine is a compact comb binding system that is well-suited for light-duty use in a home or office setting. It features a durable, manual punch that is capable of punching up to 15 sheets at a time as well as 21 fully-disengaging dies for added versatility. The OfficeComb also has an adjustable side margin guide and punching depth margin control to provide consistent, professional results on a wide array of document sizes. Since comb-bound books can be easily edited, the OfficeComb is ideal for creating price books, training manuals, and other frequently-updated documents. Below is a step-by-step guide for editing books bound with the OfficeComb comb binder:
1.Place the book that is to be edited onto comb opener, ensuring that the open side of the comb is facing up and the spine of the comb is behind the tines of the comb opener.
2.Use the binding handle to gently open the plastic binding comb. Once the comb has been opened enough to remove the pages, release the handle to keep it in its open position.
3.Remove and/or replace the desired pages within the book.
4.Ensure that all pages have been completely inserted onto the comb, then return the binding handle to its starting position. This will close the comb and complete the bind. Your revised book is now ready to share.
Just tell me what you want, a customized product is welcome!