Home
>
FAQ
>
About products
>
The Tamerica ECO-21 Comb Binding Machine: A Cost-Effective Way to Bind Documents
The Tamerica ECO-21 Comb Binding Machine: A Cost-Effective Way to Bind Documents
The SUPU CB430 Comb Binding Machine: A Cost-Effective Way to Bind Documents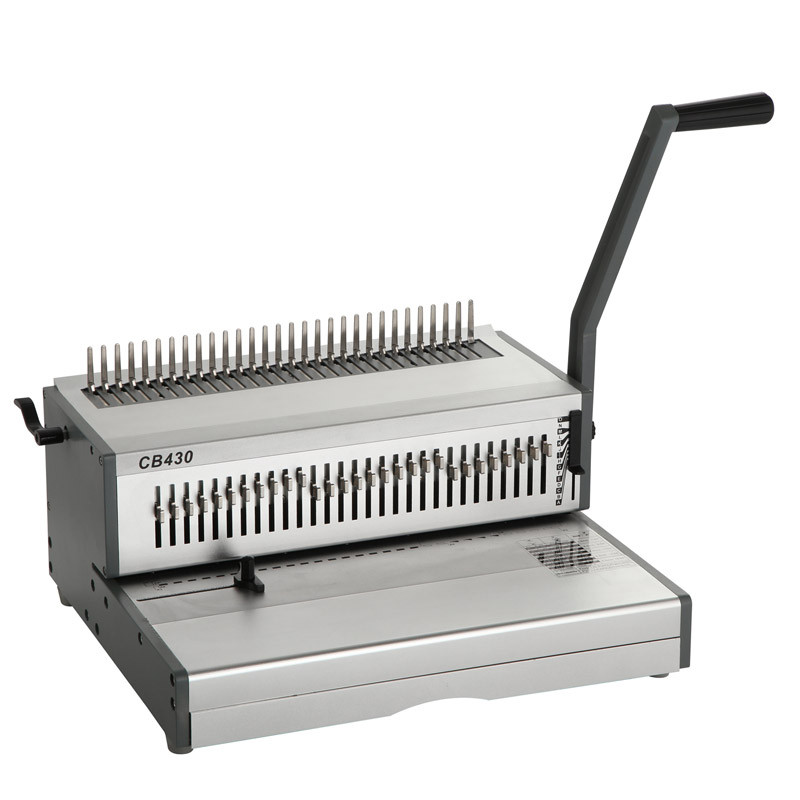 The SUPU CB 430 comb binder is an affordable desktop binding machine that is surprisingly robust. It offers users a wide selection of features, including a substantial punch capacity, disengaging pins, and an adjustable depth margin, In this review, we'll get to know the CB430 and learn what sets it apart from other entry-level comb binding machines.
The Basics
Comb binding is one of the most popular traditional binding styles, primarily because it uses affordable supplies and allows bound documents to be easily edited. Plastic binding combs are made up of a series of 27 rings (for letter-sized documents), which correspond to the 27-hole comb binding punch pattern. The rings are inserted into the pre-punched rectangular holes with the aid of a comb opener to create a bound document. Because there is no crimping or closing of the comb binding spine (as there is with binding coils and wire-o spines), a bound document can be reinserted into the comb opener to allow pages to be added or removed without requiring a new spine.
The supu cb430 is a manual punch, manual bind machine. It has a 12" maximum punching length with a total of 29 pins, and punches the standard 27-hole pattern for letter-sized sheets. It also has an open punching throat, All 29 pins are disengageable, which means that you can selectively eliminate holes to accommodate specialty paper sizes. The supu cb430 also allows you to adjust both the side margin (the distance of the holes from the side of the page) and punching depth margin (the depth of the holes from the binding edge - generally closer to the edge for thinner documents and farther from the edge for thicker documents). The maximum punch capacity is 15 sheets per pull (based on 20 lb. paper), and the binding capacity ranges from 3/16" to 2" (approximately 12 pages to 425 pages).
The supu cb430 It is small enough to fit on most desktops, and is light enough to be easily transported between offices. Despite its small footprint and low weight, it has an attractive and durable metal casing and is backed by a one-year warranty.
In Review
With features like fully disengageable pins and an adjustable depth margin, the cb430 is ideal for small office environments with low to moderate binding volumes. It offers more options than most other machines in its class, Though it is not designed for high volume use or production settings, it does have an excellent balance between cost and features, and is one of the more durable machines offered in that pricing level. If you are looking for an entry-level comb binding machine that is packed with features but won't break the bank, then you should definitely take a closer look at the cb430 comb binder.
Just tell me what you want, a customized product is welcome!